Organization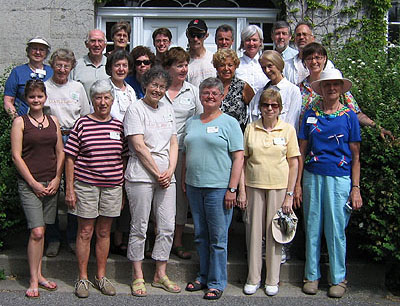 Photo: courtesy of Eileen Hunt
Since its inception, the Friends of Maplelawn Garden has been an ad hoc group of individuals established to aid in the rehabilitation and maintenance of the garden portion of a National Historical Site, which includes both the house and the walled-garden.
Meeting the Volunteers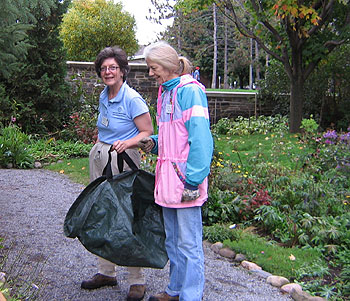 Photo: Eileen Hunt
Sunday morning is when much of the work is done in the garden, so if you want information about Maplelawn, or to check if there are plants for sale, that's the best time to visit. Otherwise it's open from dawn to dusk without charge, for "quiet enjoyment".
Volunteer Development
The Friends of the Maplelawn Garden is entirely run by volunteers. We welcome anyone (experienced or novice Gardeners) to join us in our efforts to preserve this precious National Historical Site. This year we are actively seeking new volunteers in the areas of :



Garden Rehabilitation & Maintenance

FMG's greatest volunteer need is in the area of Garden Rehabilitation and Maintenance: the ongoing process of ensuring that the flower beds remain as close as possible to those outlined in Warren Oliver's original garden design from the 1930's and recent agreements with the NCC concerning areas not included in the Oliver Plan. This work is done under the guidance of the Team Leaders for each section. Garden Maintenance includes all the regular gardening tasks of weeding, deadheading, replanting, etc. For the Center Bed, it also includes the complete replacement of tulips with annuals, and fall planting of tulips bulbs for the spring.



Grounds Keeping

The Garden at Maplelawn includes a park area of shrubs, trees, grass, and picnic tables; a services area; and extensive pathways. The Grounds Keeping Team is responsible for their maintenance. Grass-cutting and the maintenance of the large trees remains an NCC responsibility.

If you are interested in becoming an FMG volunteer, please contact Sophie Desrosiers. FMG Volunteers are considered heritage site volunteers for the National Capital Commission, and undergo a pre-screening process with the NCC.





Photo: Eileen Hunt
Acknowledgements
The Friends of Maplelawn Garden would like to sincerely thank Suncor Energy Inc. for their ongoing support.

| | |
| --- | --- |
| Webmaster/writer/photographer | Wayne Rutherford |
| Writer/site history/photographer | The late Nancy E. M. Smith |
| Photographers | The late Lloyd Brown |
| | The late Ann Falkner |
| | Eileen Hunt |
| | Paul Richer |
| | Howard Sandler |
| | John Zvonar |

Photo Contributors
National Capital Commission
City of Ottawa
The Rochester Family

Translators
Johanne Cadieux (FMG)
Suzanne de Sève (FMG)
The National Capital Commission